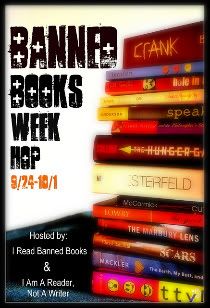 Welcome to the Back to the Banned Books Week Hop, which was organized by Kathy @
I'm a Reader, Not a Writer
and Jen @
I Read Banned Books
. A "hop" is when participating blogs hosts a giveaway and then we link up together allowing our followers to hop easily from one giveaway to another. So, to find the linky all you have to do is click the link for one of the above blogs.
The Cozy Reading Corner's prize for this hop will be a pdf file ebook of The Hunger Games by Suzanne Collins!!!
The Hunger Games (The Hunger Games, #1) by Suzanne Collins
Synopsis:
In the ruins of a place once known as North America lies the nation of Panem, a shining Capitol surrounded by twelve outlying districts. The Capitol is harsh and cruel and keeps the districts in line by forcing them all to send one boy and one girl between the ages of twelve and eighteen to participate in the annual Hunger Games, a fight to the death on live TV. Sixteen-year-old Katniss Everdeen, who lives alone with her mother and younger sister, regards it as a death sentence when she steps forward to take her sister's place in the Games. But Katniss has been close to dead before—and survival, for her, is second nature. Without really meaning to, she becomes a contender. But if she is to win, she will have to start making choices that will weigh survival against humanity and life against love.
~~~~~~~~~~~~~~~~~~~~~~~~~~~~~~~~~~~~~~~~~~~~~~~~~~~~~~~~~~~~~~~~
This is an international contest because the prize will be emailed to the winner. After the winner is announced on October 2nd, he/she will have 48 hours to respond to my email before a new winner will be chosen. To win all you have to do is become a follower (unless you already are one) and complete the Rafflecopter form below. Good Luck! :))
**To see the list of Banned Books where I chose the prize from, go
HERE!
-Kristen ♥