2013 Outdo Yourself Reading Challenge

Reading Challenge Details:
Runs January 1, 2013 – December 31, 2013 (books read prior to 1/1/2013 do not count towards the challenge). You can join at anytime. Sign up on The Book Vixen's blog

.

The goal is to outdo yourself by reading more books in 2013 than you did in 2012. See the different levels below and pick the one that works best for you. You can move up a level as often as you'd like but no moving down.

Books can be any format (bound, ebook, audio).

Novellas that are at least 100 pages in length, as well as full-length novels, will count for this reading challenge.

Re-reads and crossovers from other reading challenges are allowed.

Grab the reading challenge button and post this reading challenge on your blog to track your progress. Please include a link back to this sign-up post so others can join the reading challenge too. You do not have to be a book blogger to participate; you can track your progress on Goodreads or LibraryThing.
Levels:
Getting my heart rate up – Read 1–5 more books
Out of breath – Read 6–10 more books
Breaking a sweat – Read 11–15 more books


I'm on fire!

– Read 16+ more books
In Progress....
2012:
159 books read
2013 goal:
read 180 books
2013 Standalone Reading Challenge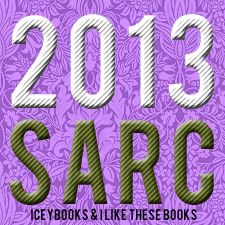 The Challenge
Read 15 Young Adult or Middle Grade standalone novels in 2013 that are released in the United States between January 1s - December 31, 2013.
Eligible Books
YA & Middle Grade standalone novels. This means that the book can not have an announced (sometimes sequels happen unexpectedly) sequel, prequel, follow up, etc. Adult novels and picture books do not count.
This year companion novels count towards the challenge. Companion novels take place in the same world and time as a novel but usually follow a different character. It can be read independently from the book that came before it.
Released between January 1 - Decemeber 31, 2013 in the United States. If a book was previously released in another country but is being releasing in the US for the first time, it is eligible. At the same time, if you live in a country where it was previously released, but it is being released in the states for the first time - lucky you- it counts.
Must be read in 2013 (If you have an ARC and read it in 2012, it does not count)
Can be read in any (legally) readable format: ARC, Paperback, Hardcover or e-book
Audio books do not count towards the challenge.


You can sign up HERE.
Progress:
0/15 Standalones read
2013 Sequel Challenge
The goal: To read as many sequels as you can. You set your goal at whatever number works for you.
Guidelines:
1. The challenge runs from January 1st to December 31st.
2.
Any books started before Jan. 1 will not count.
3. Any book after the first book in a series counts. Books in the same series also count.
4. Novellas count, as long as it is after book #1. (ex: #1.5, #2.5, etc) No prequels.
5. Books can be of any publication date. They don't have to be released in 2013.
6. Sign ups will be open until December 1st, 2013.
7. Add the URL of your challenge post to the linky widget. (If you'd like to wait, it's ok to use your blog URL and send me your link when you get the post up)
8. At the end of each month I will post a linky for you to add your sequel reviews to.
9. I will try to do some giveaways throughout the year for participants (as long as I can afford it).
10. There will be a giveaway at the end of the year for all participants who completed the challenge.
You can sign up
HERE
.
Progress:
0/15 Sequels read
-Kristen ♥